History of Delaware License Plates
---
General Overview, 1905 to Present
---
The Early Years (1905-1909)
A 1905 law required drivers to provide an identifying marker for their automobile. These were usually made of leather or porcelain. Effective May 1, 1909, a new law authorized state-issued license plates. These new white-on-black license plates were issued in pairs, a trend that continued through the early 1940s.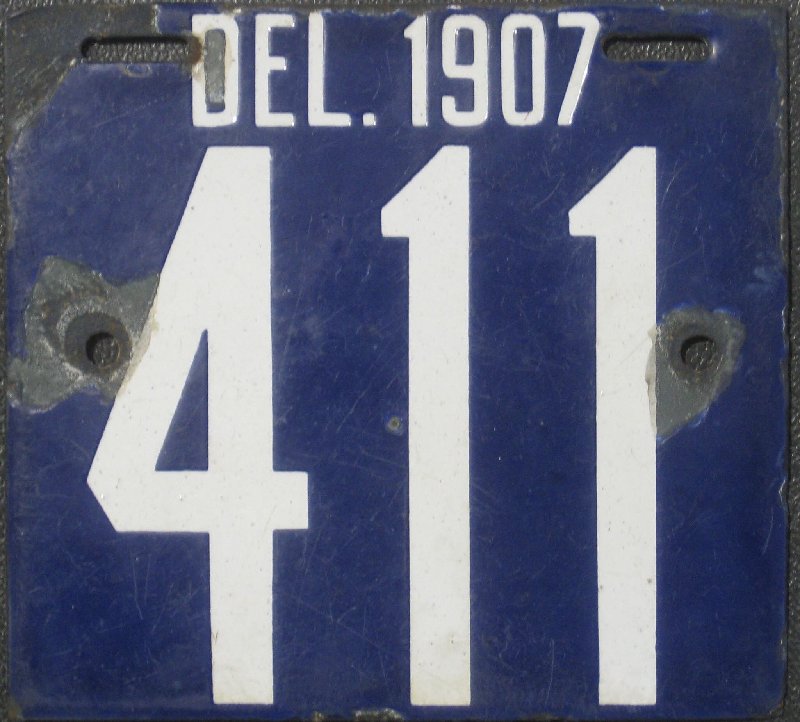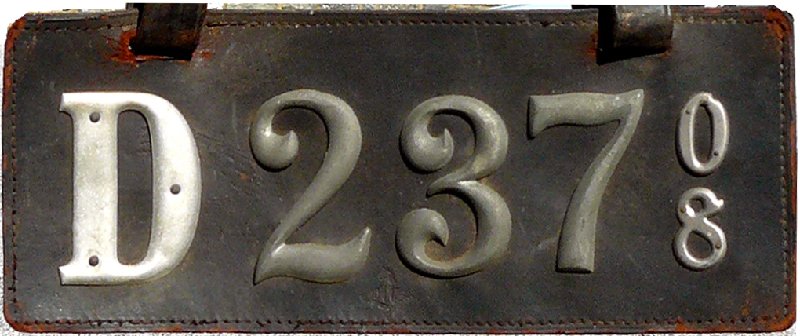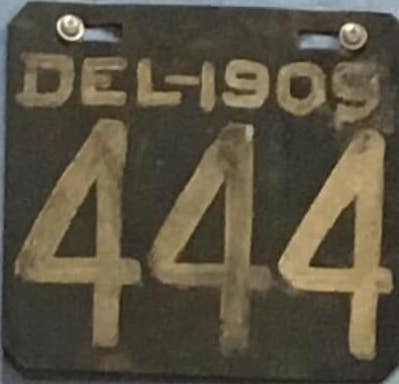 ---
Porcelain Plate Era (1909-1915)
Delaware issued license plates in pairs made from porcelain enamel from May 1, 1909 through 1915. Drivers got a new plate every year. Motorcycle and Dealer numbers were part of the Passenger sequence until 1913 (Motorcycle) and 1914 (Dealer).
There were two variations for 1913 and 1914, as seen below. The popular theory is that not enough plates were ordered in the beginning of each of those years so a supplemental order was needed halfway through the year, but the design changed slightly for some reason. The changes happened at #2000 for 1913 and #3000 for 1914. There were three minor variations for 1909 as well - the "DEL. 1909" was thinner in the middle of the run (numbers 1269 thru 1330 are known with the thinner font).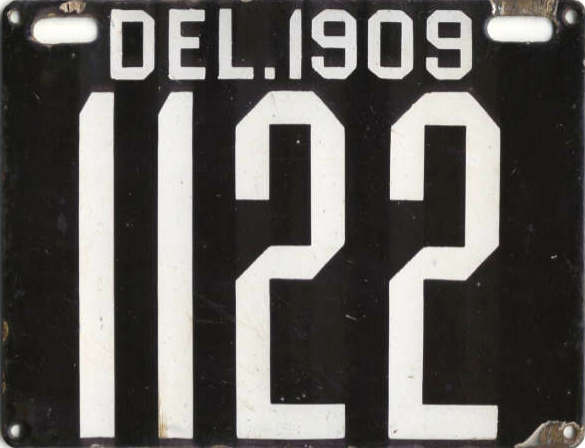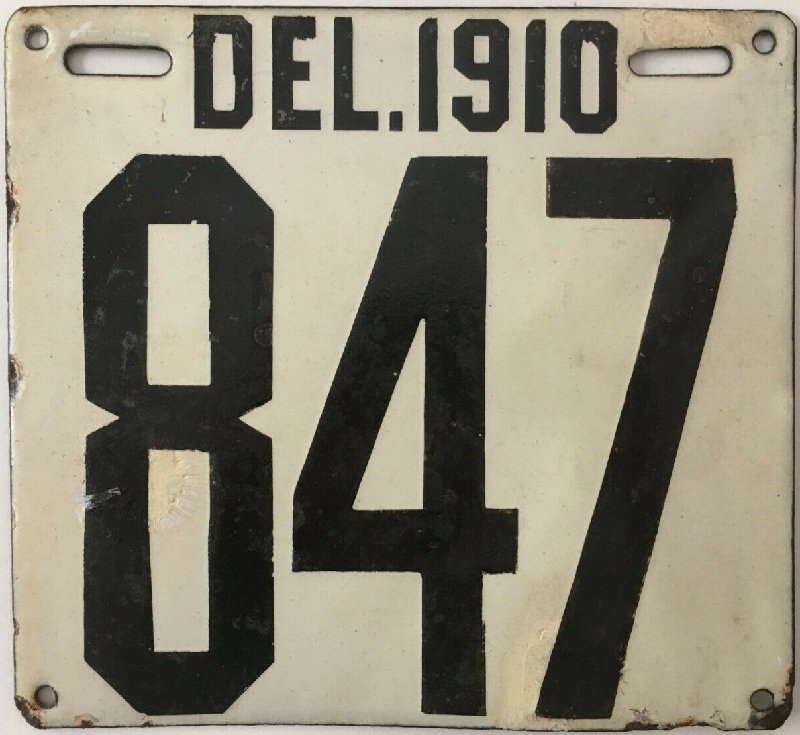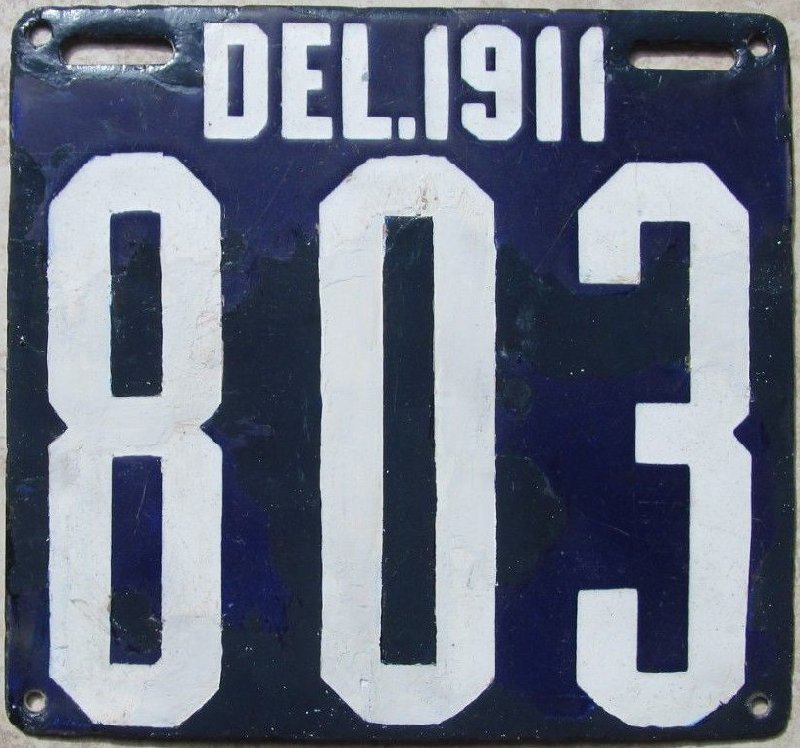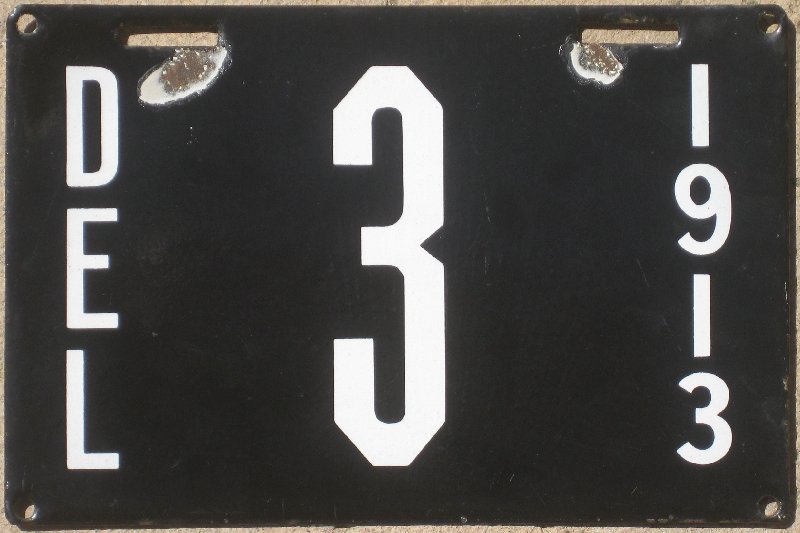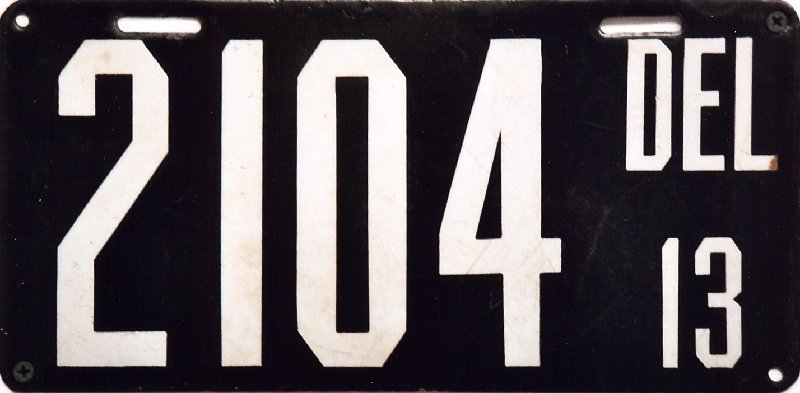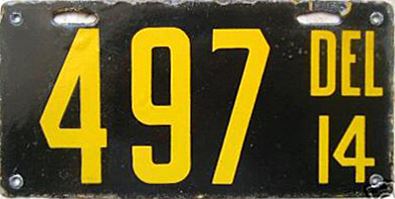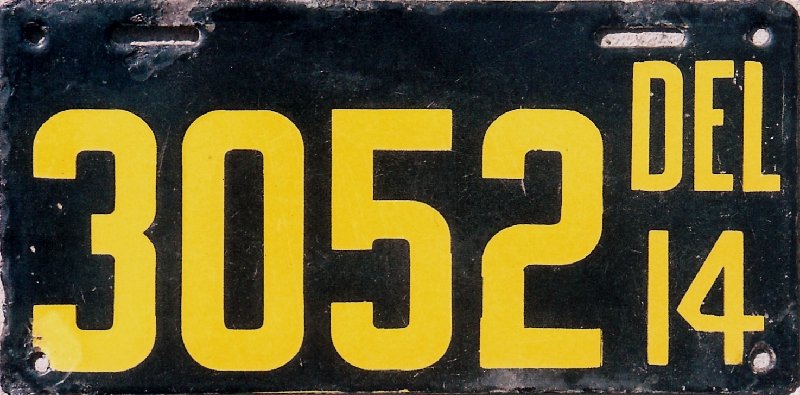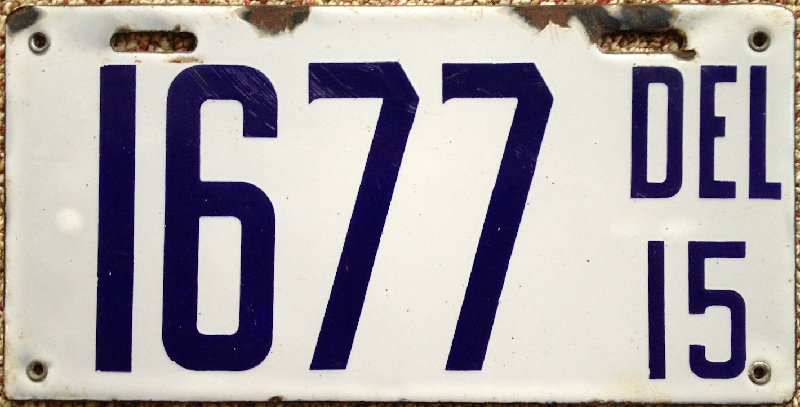 ---
Tin Plate Era (1916-1941)
Delaware switched their license plates to tin in 1916, and that lasted until early 1941. New pairs were issued each year. There is no dated 1940 or 1941 plate; the annual plate issued in 1940 simply shows an expiration date of "3-31-41". The 1941 plate followed suit with a 3-31-42 expiration date printed on the plate.
Commercial tags became their own plate type in 1923, first as oval-shaped plates in 1923 and then standard-shaped plates in 1929 but with the "C" prefix.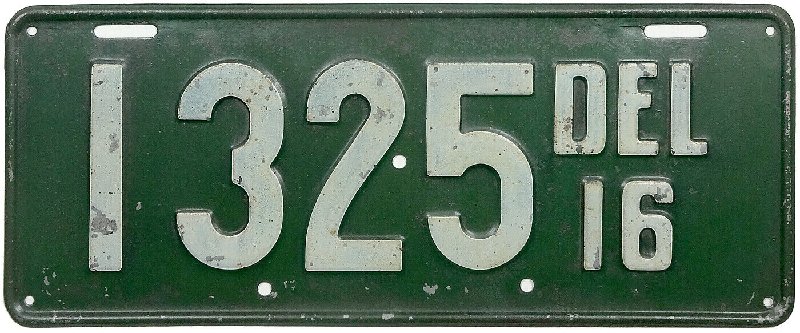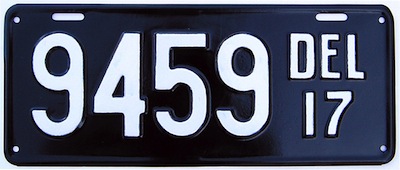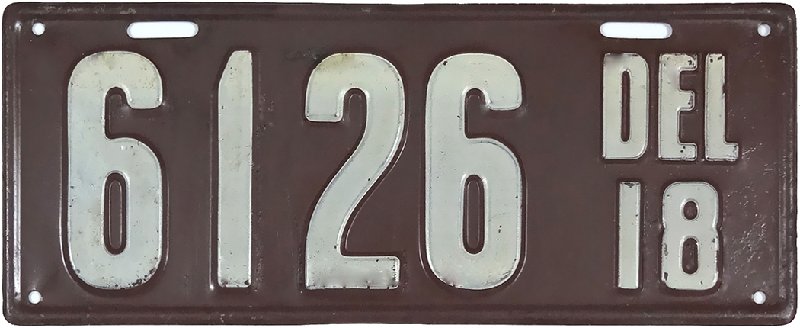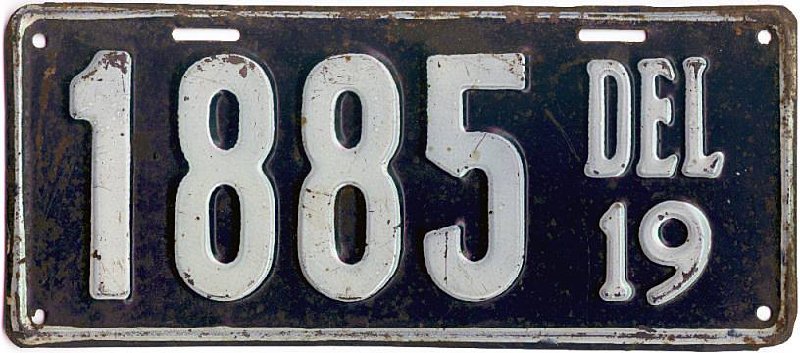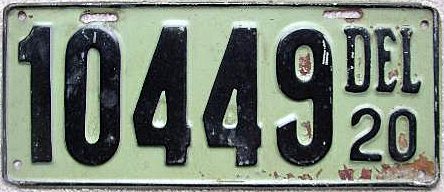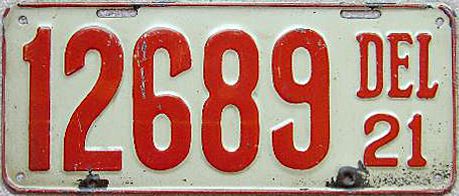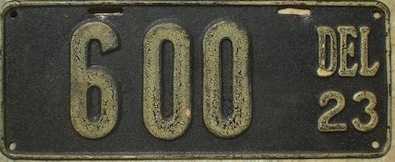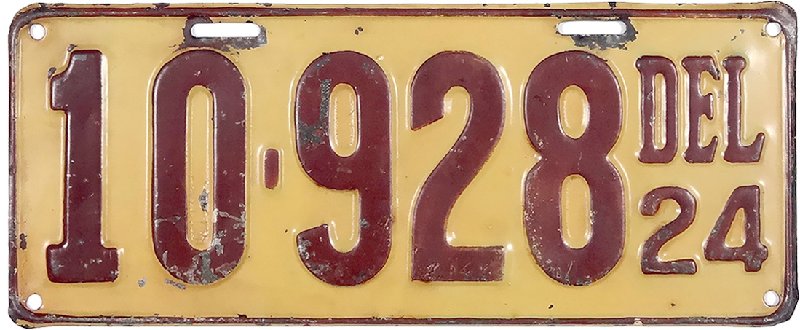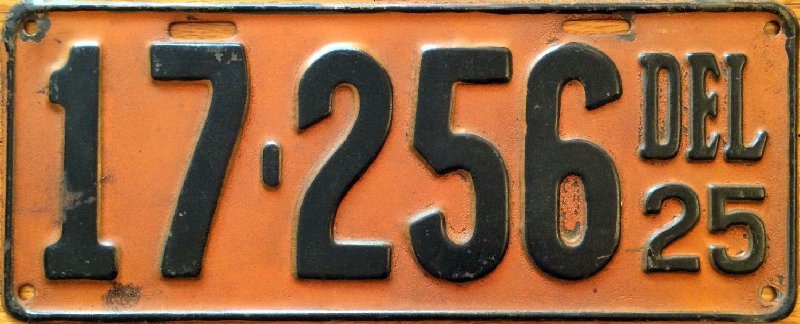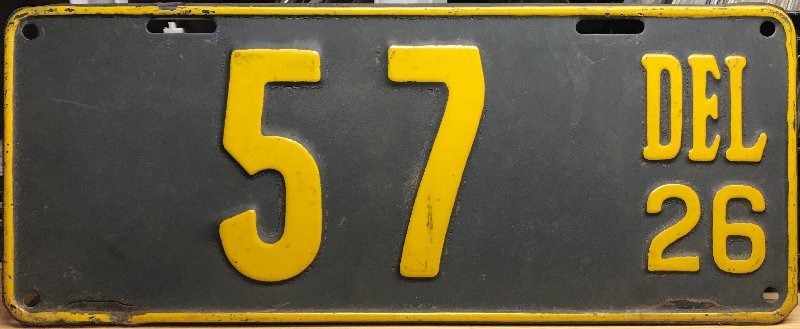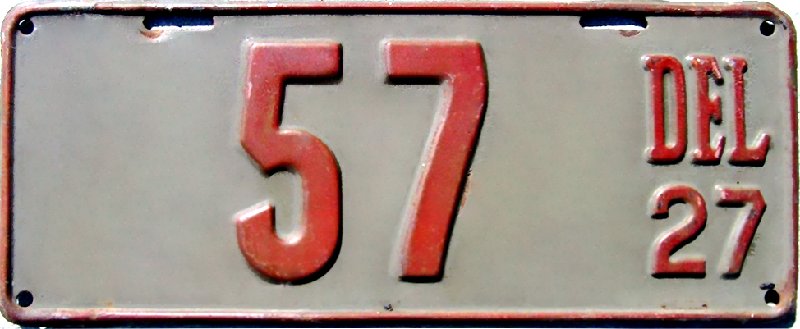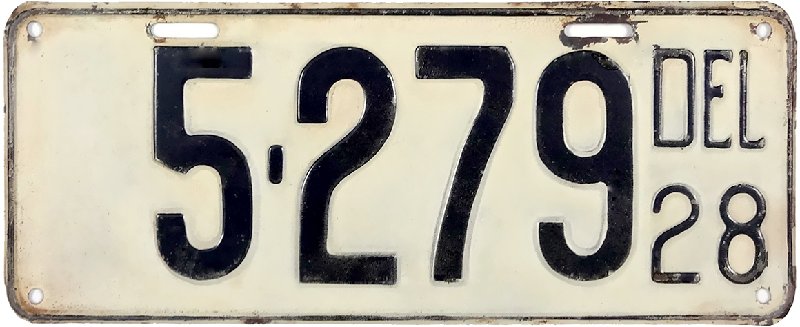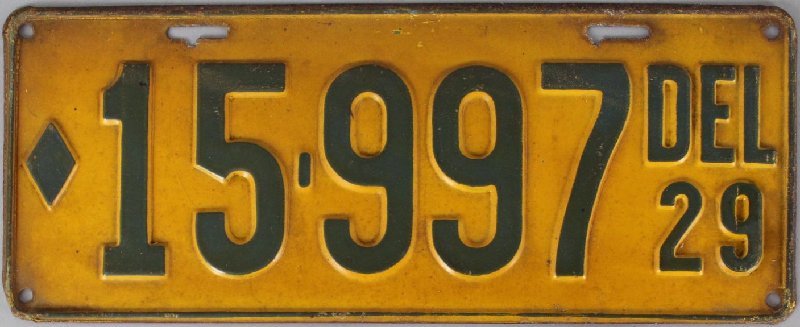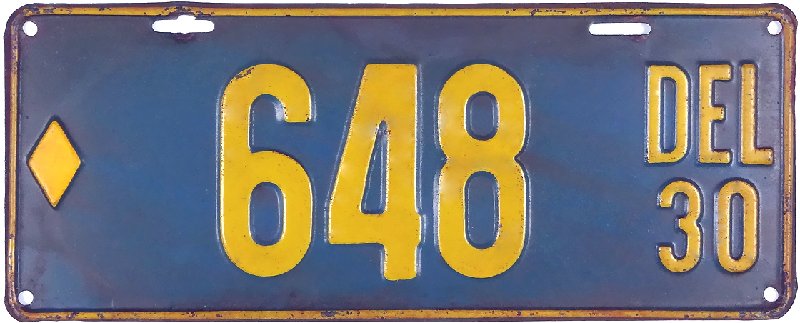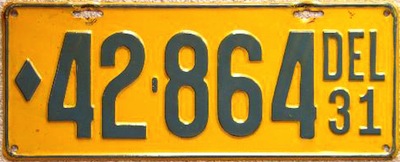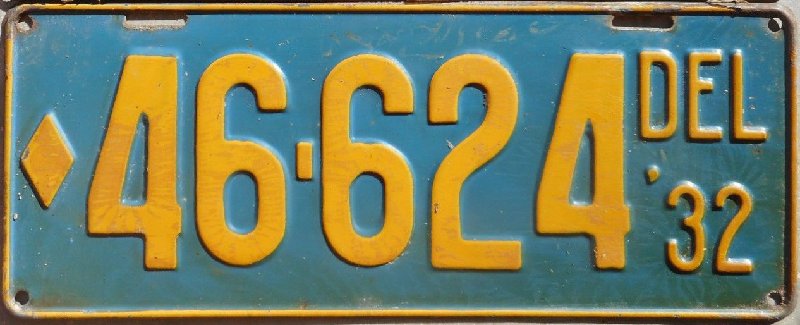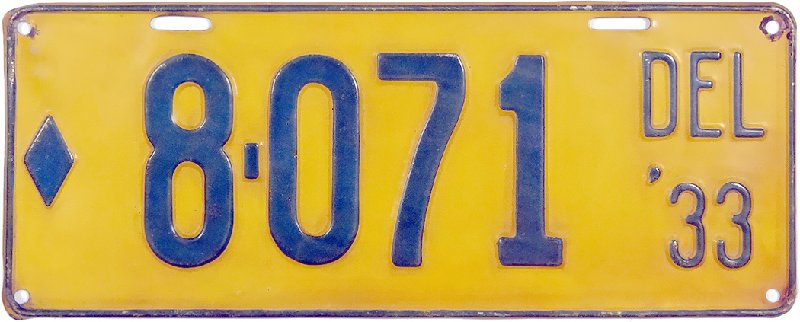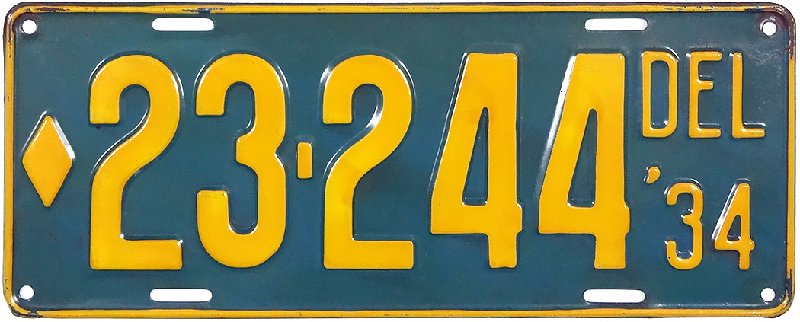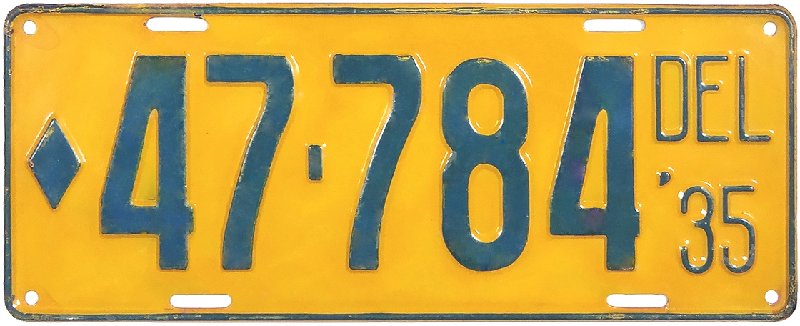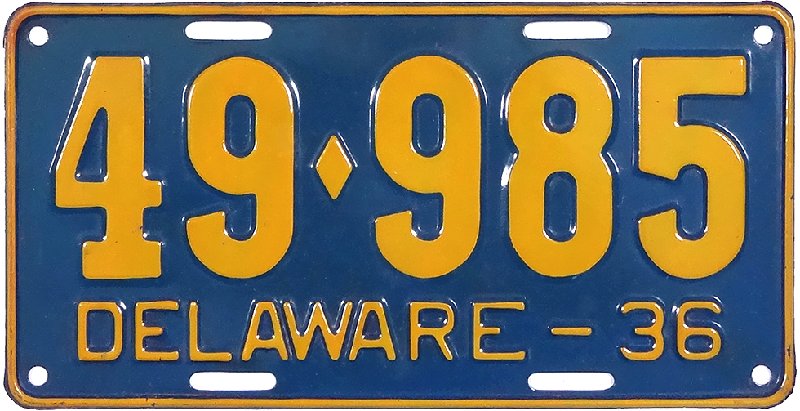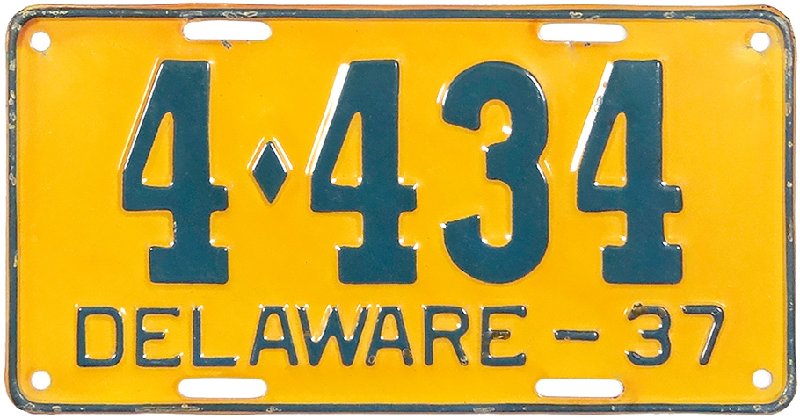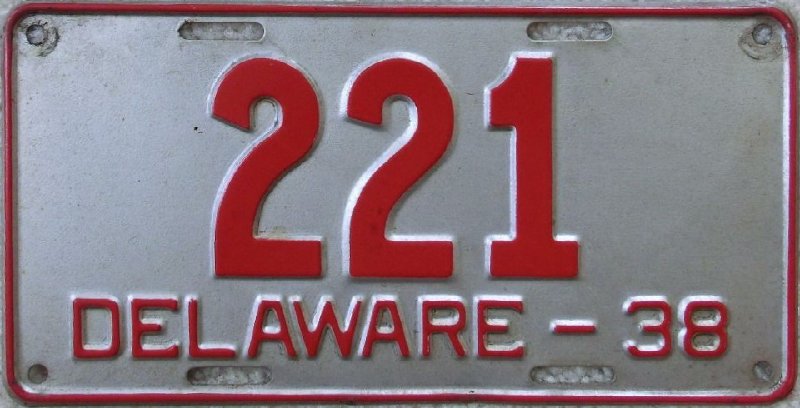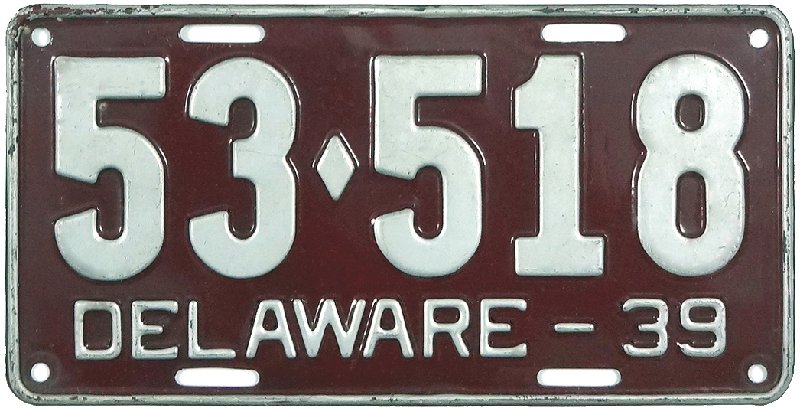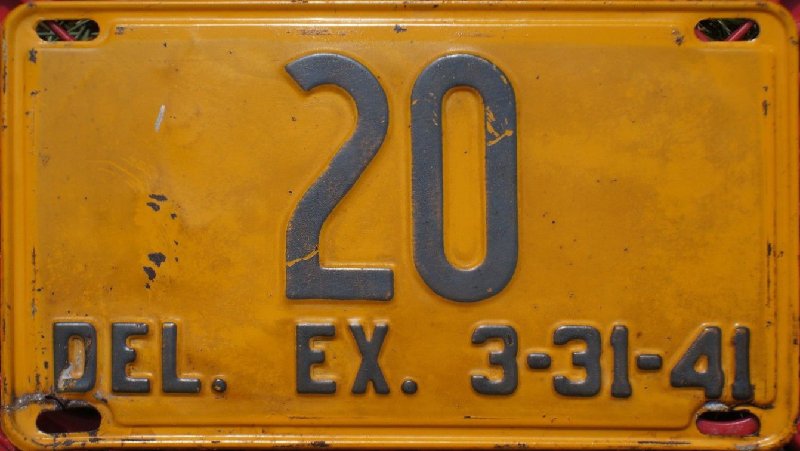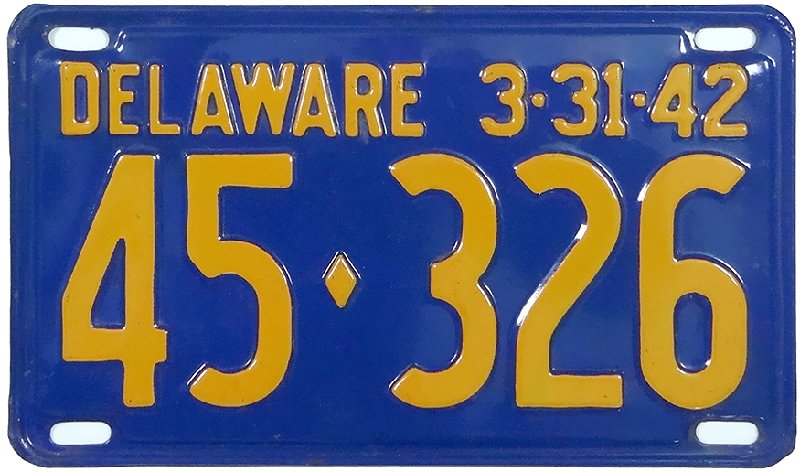 ---
Permanent Plate Era, Part 1: Porcelain and Stainless (1941-1958)
Delaware moved to permanent plate made of porcelain enamel in July 1941. They were white on black with "DEL." at the top, and with tab slots flanking the "DEL.". These tabs were the predecessor of the validation stickers we use today on our plates. There were three font variations of these new porcelain plates, detailed below. In mid-1943, the state decided to only issue single plates in an effort to conserve materials for World War II. Delaware has issued single plates ever since.
The first variation was the most common and has the same font we know and love today. These were manufactured by Baltimore Enamel & Novelty Company, the highest number of which is known just shy of number 76000. The second variation was a limited run; numbers are only known from about 76000 to 77149. It is not known who the manufacturer was. The third variation was produced by Lansdale (PA) Porcelain Enamel Company, and numbers are known from approximately 77150 through 86999, which is where the limit for modern reproduction black tags comes from (you cannot get higher than 86999 reproduced on porcelain).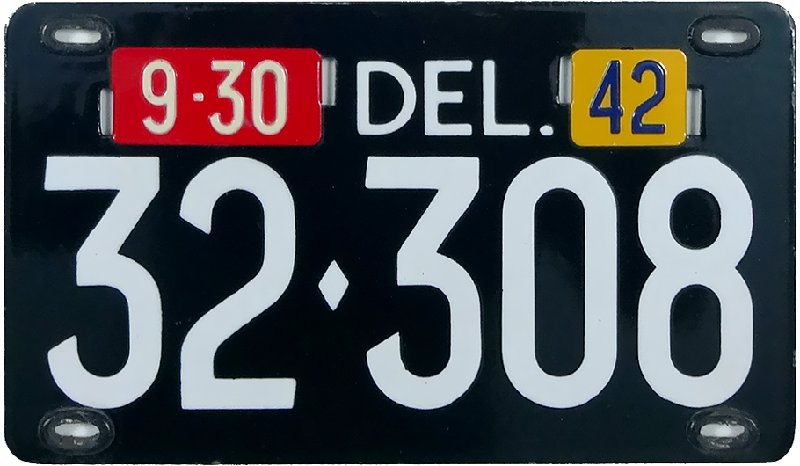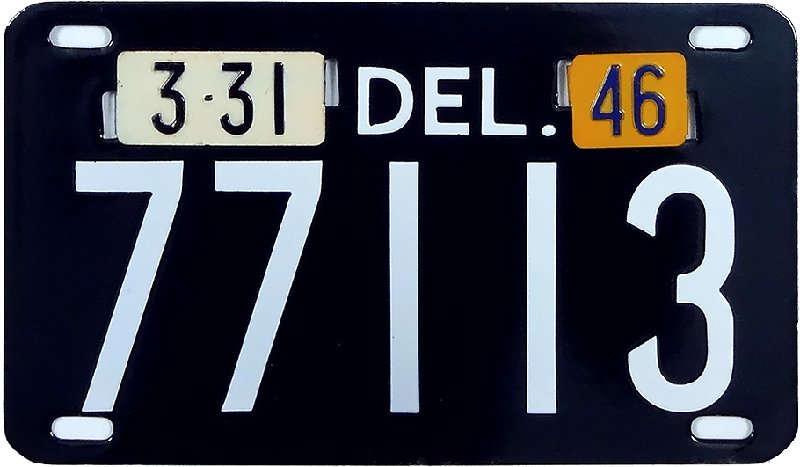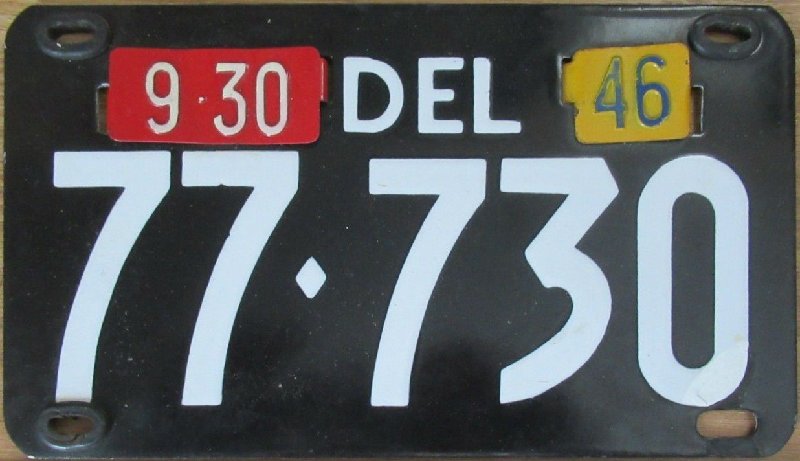 In 1947, Delaware replaced the permanent porcelain plates with a new stainless steel black plate as their standard issue. Like the porcelain plates above, there are three varieties known: stainless steel numbers, stainless steel numbers with Scotchlite reflective tape, and the 6"x12" base with bolt holes instead of bolt slots (still with Scotchlite tape). Note: the last variation came about because, in 1956, the United States mandated that all license plates be 6 inches by 12 inches. Delaware was the last state to switch, in 1958.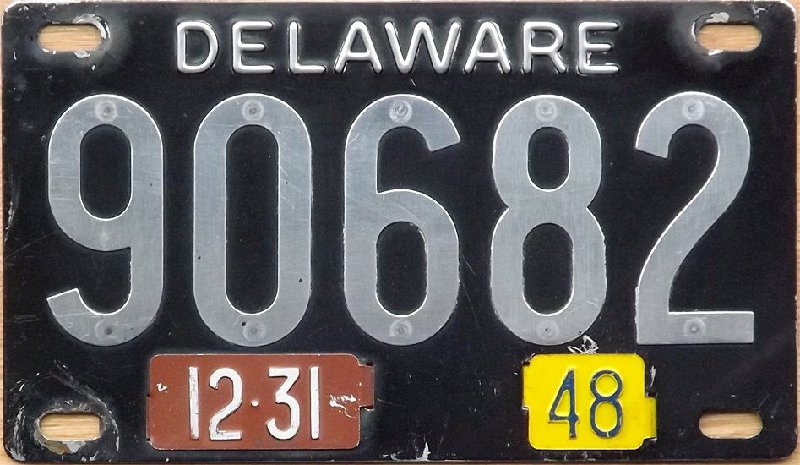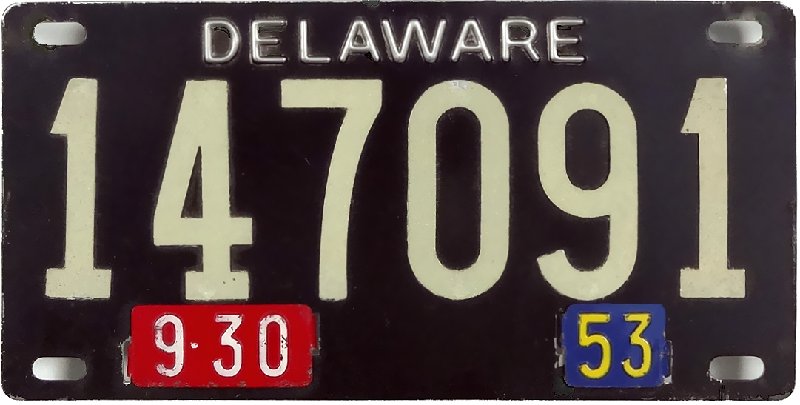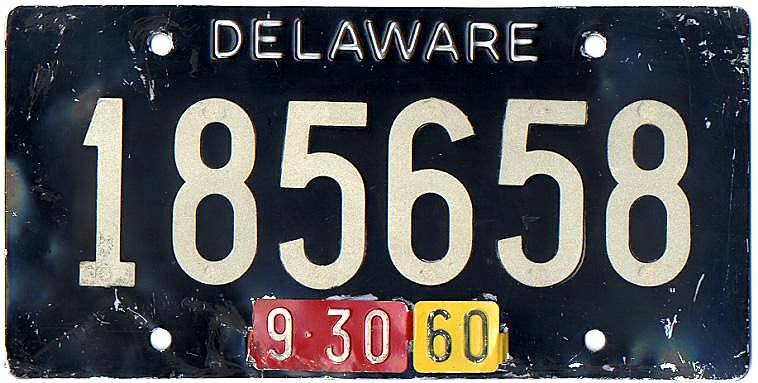 ---
Permanent Plate Era, Part 2: Blue & Gold (1958-present)
1958 brought a change that is still reflected today: blue and gold permanent plates. Our plates have been blue and gold for over 65 years. Demco Manufacturing in Milford made our plates until 2002, at which point the contract was taken over by Waldale Manufacturing in Canada. Newspapers from 2002 report that when it was time to rebid the license plate contract, Demco was in the process of getting out of the business of manufacturing license plates and, accordingly, their bid came in extremely high. Given their prior relationship, the state actually gave Demco a second chance to bid and still came in high. That marked the end of their relationship.
Demco plates had a few variations in their early years, but were largely unchanged. The first blue & gold plates were made from leftover black plates that were repainted and restamped (see 1st & 2nd pictures). After these were exhausted, the standard-issue plate had "DELAWARE" on top (two variations, see 3rd & 4th pictures). In 1962, the slogan "THE FIRST STATE" was added to the top of the plate, and "DELAWARE" was moved to the bottom. In 1968, a gold border was added to the plate, which is the style that is still used today.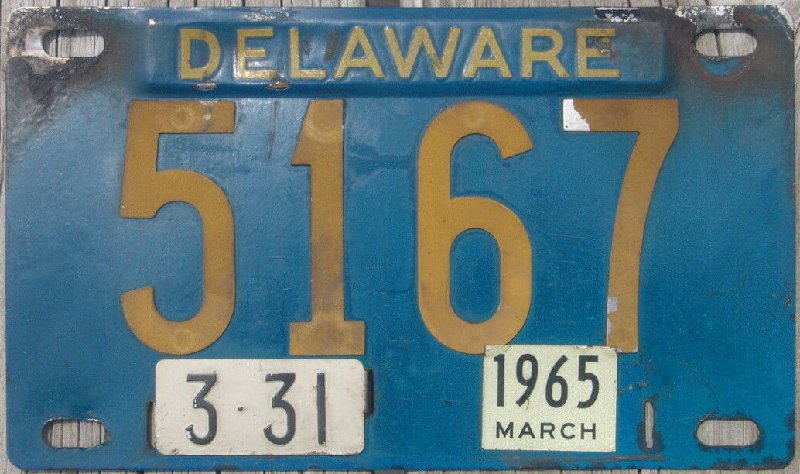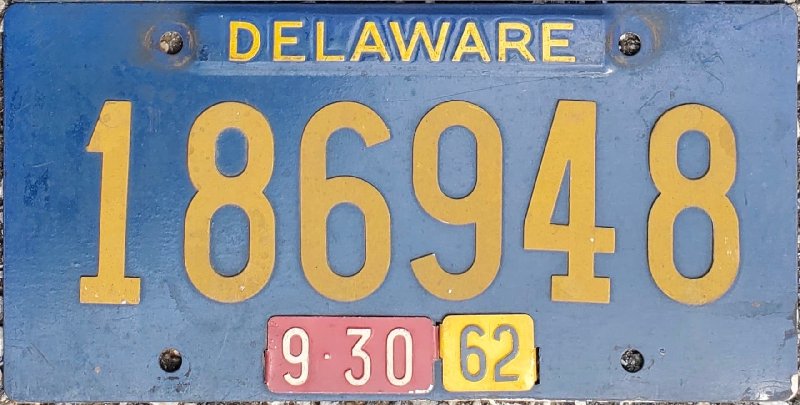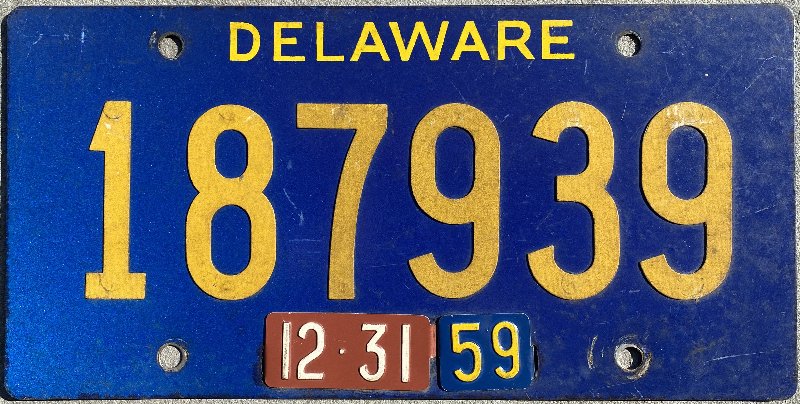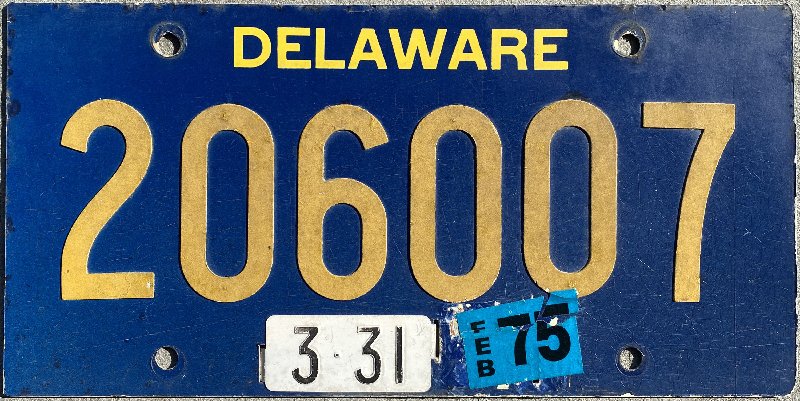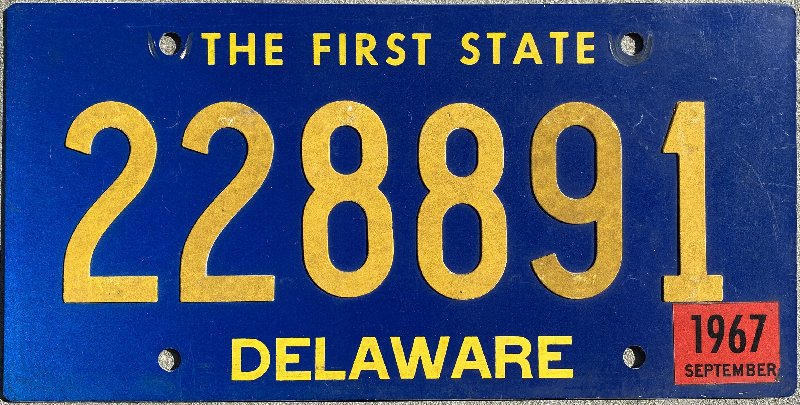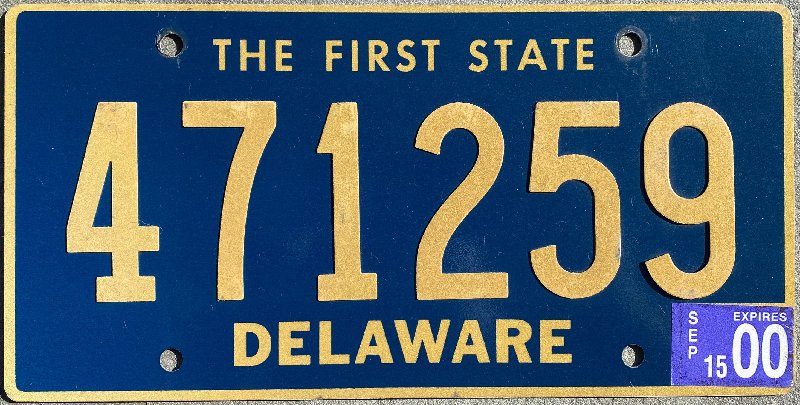 Waldale plates have seen a total of 4 variations. The third and fourth variations are nearly identical; the fourth variation simply added beveled edges.
My favorite anecdote regarding Waldale plates was that it was only because of Delaware residents that the font changed twice in the early years of Waldale plates. Delawareans were adamant that the font look like the Demco plates they were used to. After three attempts, they finally got what they wanted (see 3rd & 4th pictures).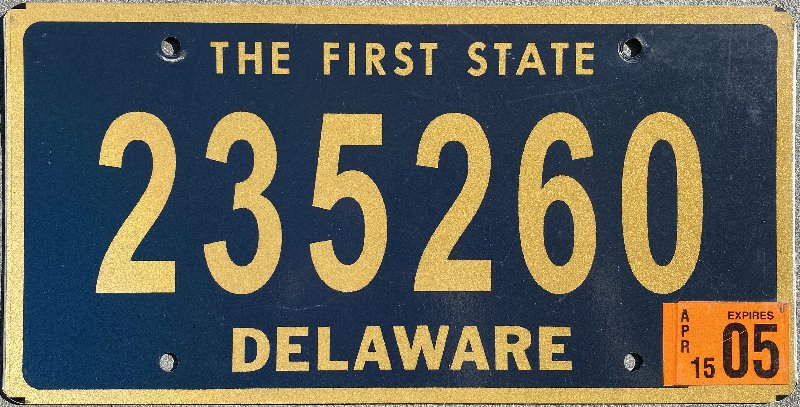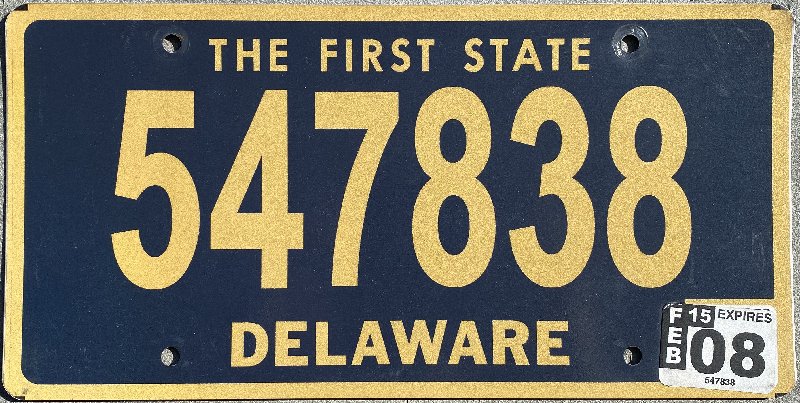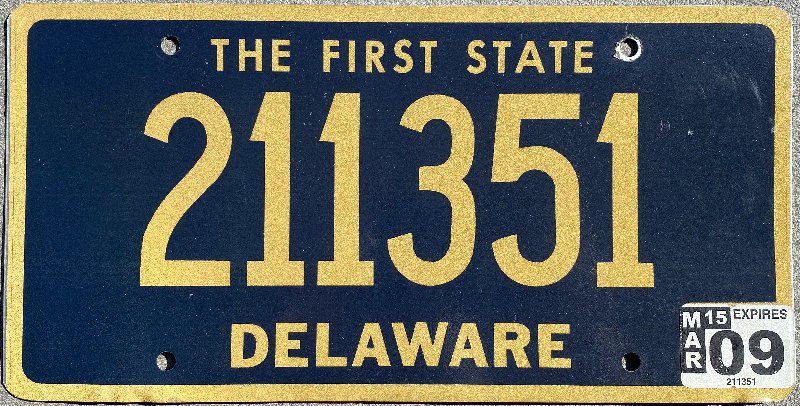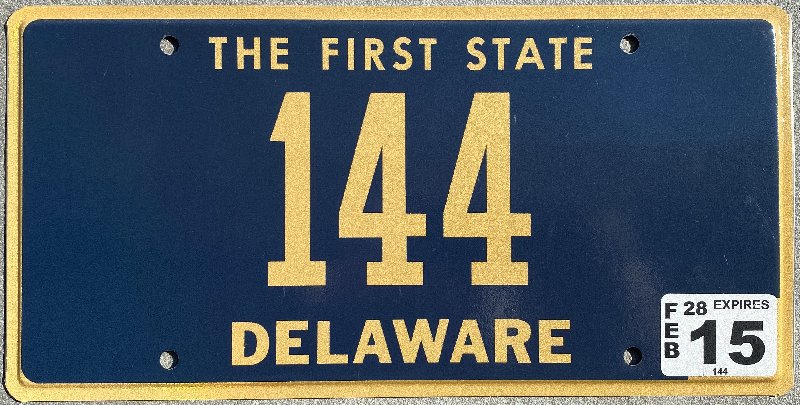 Back to the top!